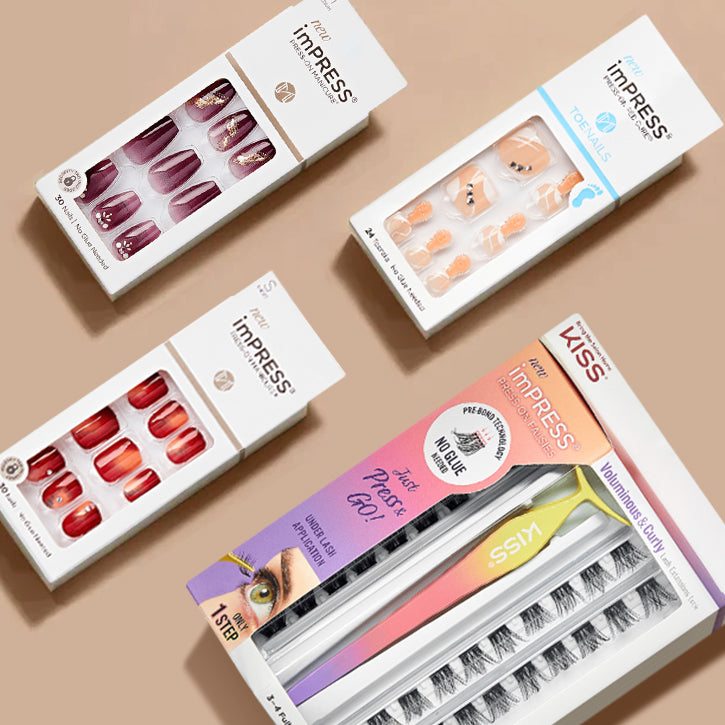 OUR MISSION
imPRESS Beauty was created as the ultimate DIY solution and form of self-expression – the perfect finishing touch to complete all your beauty looks. Our NO GLUE NEEDED, press & go manicures, pedicures and lashes are designed to play a confidence-boosting role in your self-care routine. We believe confidence is the most beautiful thing you can wear, so we strive to provide high quality ready-to-wear false nails and lashes, in the most on-trend styles, designs, and colors at affordable prices you can feel good about.
OUR STORY
Since 2012, imPRESS Press-on Manicure has been revolutionizing the beauty industry with a DIY manicure that is achievable in minutes! The product itself quickly became the #1 brand in the KISS portfolio thanks to its easy, no glue needed, press-on application and trendy, fashion-forward styles.
In 2021, we stepped up our nail game with new innovation that delivered stronger yet slimmer, more natural looking and feeling nails.  This new PureFit technology combined with the brand's patented Dual-Layer Adhesive system is revolutionary, keeping nails secure and perfect for days.  In 2022 imPRESS technology expanded its line up to include press-on toenails. Now a perfect salon pedicure was fast, easy, and effortless.
In 2023, imPRESS went even further and brought this same breakthrough, no glue needed, press-on and go technology to the false lash category with the launch of imPRESS Falsies, the most convenient lash application yet. The easy, one-step process is perfect for lash beginners and experts alike, leaving no mess and no mistakes. The newly expanded brand embodies effortless beauty with its exclusive and patented press-on technology that promises salon quality manicures, pedicures, and lashes in minutes.
imPRESS brings together the ultimate DIY alternative to salon manicures, pedicures and lashovers with its game changing, no glue, press-on technology under the house of imPRESS Beauty.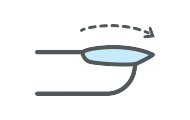 CONTOURED SECURE FIT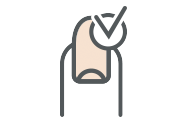 SAFE ON NATURAL NAILS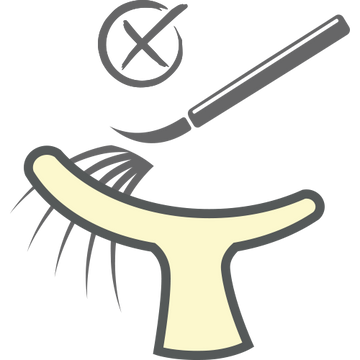 NO GLUE NEEDED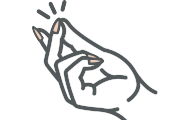 EASY TO
APPLY & REMOVE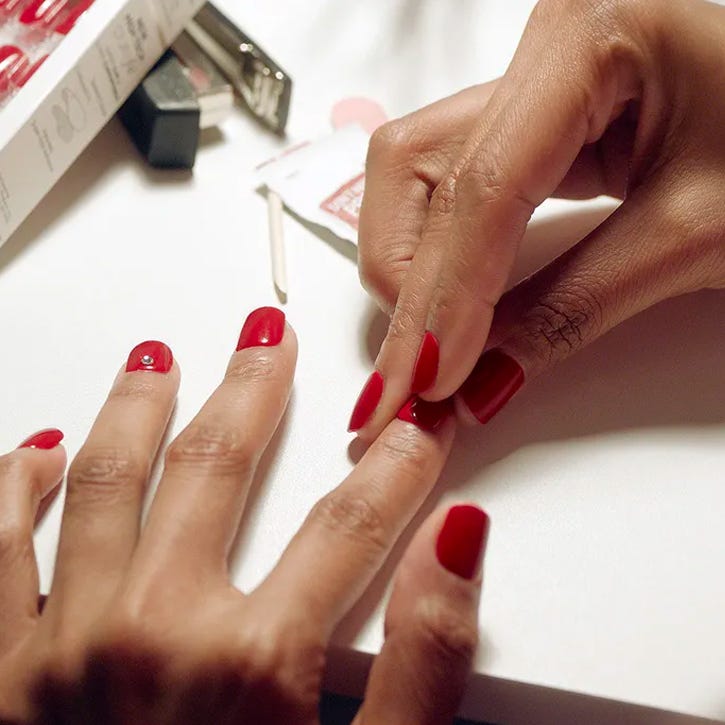 OUR NAIL TECHNOLOGY
Comfortable Secure Fit
Thinner overall nail ensures weightless contoured fit.
Seamless Natural Look
Tapered cuticle allows for a snug, gap-free fit that prevents lifting.
SuperHold Technology
Durable & flexible adhesive makes nails stay put and stay perfect for up to 7 days!
Learn More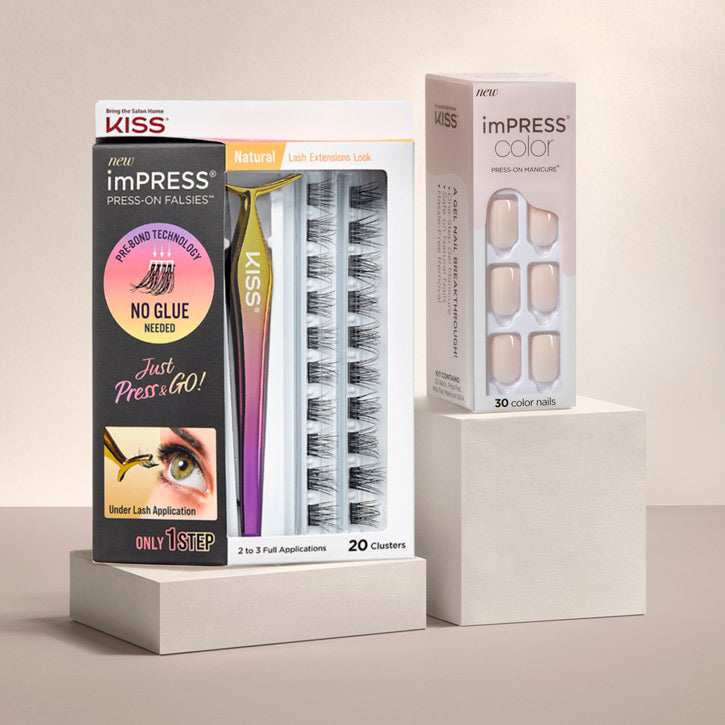 SUSTAINABILITY EFFORTS
At imPRESS, we live for the present but look forward to a brighter future. We believe this starts with efforts to protect the planet and the environment here and now. In our long-term commitment to sustainability we have introduced a recyclable paper package, printed with soy ink. But this is only the beginning of our pursuit to become as earth friendly as possible, and we can't wait to share what we've got in the works!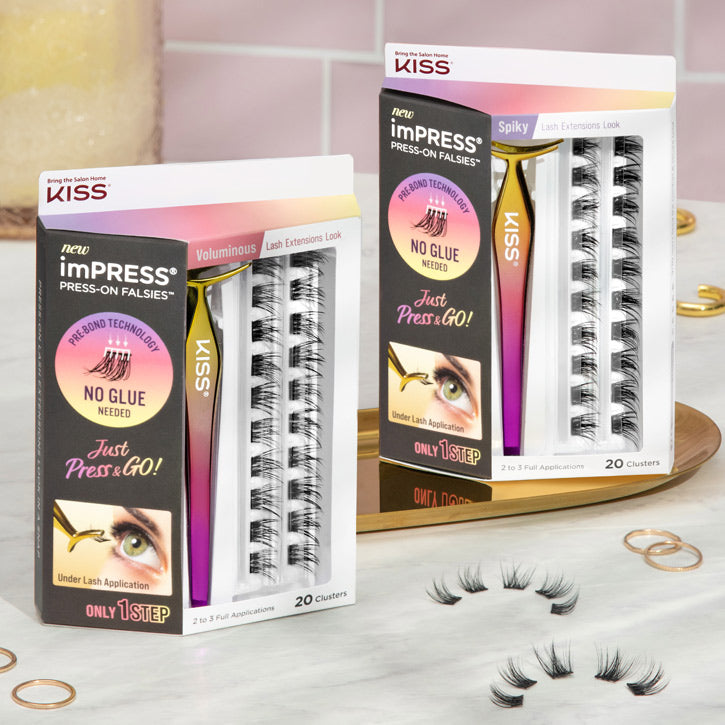 A LASH GAME CHANGER
No Glue Needed, 1-Step Lashes:  Thanks to our patent-pending pre-bonded technology, imPRESS Falsies are self-stick and so easy to apply
Seamless, Natural Look: Clusters use flexible bands to provide a weightless, comfortable feeling, and the underlash application means no one can see your lash band
Secure Hold plus Easy Removal:  imPRESS Falsies will provide 24 Hour secure hold, as well as simple removal with no residue or damage to your natural lashes
Quick and Easy:  No glue, no mess, no mistakes –now anyone can lash like a pro in minutes
LEARN MORE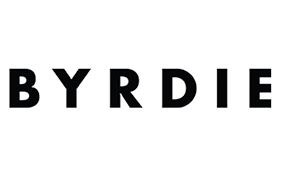 Cont"Don't Sleep on the Press-On Nails Trend -
They're Easy and Virtually Damage Free"ent
READ THE ARTICLE

SEE YOU ON INSTAGRAM!
Share your #imPRESSmoments with us @imPRESSBeauty.